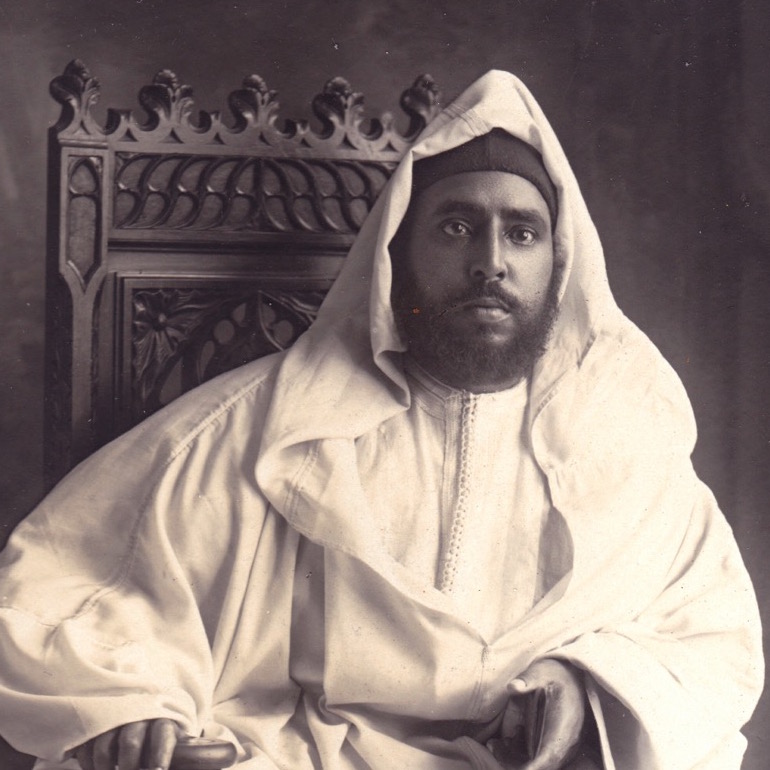 Full-length portrait of Abd al-Hafid of Morocco, 1912, signed and dedicated to W.L.F.C. Ridder van Rappard,  envoy extraordinary and minister plenipotentiary of the Netherlands to Tangier
Full-length portrait of Abdelhafid of Morocco or Mulai Abdelhafid (1875-1937) who was the Sultan of Morocco from 1908 to 1912 and a member of the Alaouite Dynasty.
The portrait showing the Sultan in white robes sitting in a large carved chair.
Silver-gelatin print mounted on brown card. Signed on the mount below the image.
"Nous dédions ce portrait comme souvenir á notre ami intelligent le ministre de Hollande á Tanger Monsieur de Rappard. Ecrit á Tanger le 6 Rabi I – 1331. (Signé): Abd-el-Hafid, Dieu et son maitre."
Photo by J. Giry, Rue de Nimes 115, Vichy (France).
Dimensions: 30 x 20 cm (c. 12 x 8 inches)
In good condition; some silvering towards the outer edges of the print.
Price: on application.